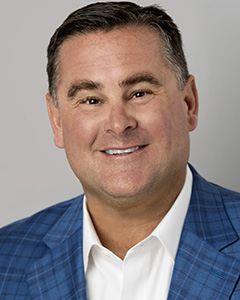 Rick Fisher, CFP®
Managing Partner
Rick Fisher is the Managing Partner of Fisher Wealth Management headquartered in Burlington, NC. He has made and continues to make the commitment to being a lifelong learner. Rick has a Bachelor of Science in Marketing from the University of North Carolina at Wilmington and a Master of Science in Personal Financial Planning from The College for Financial Planning. Rick is a CERTIFIED FINANCIAL PLANNER™(CFP®), an Accredited Asset Management Specialist (AAMS), and a Certified Divorce Financial Analyst® (CDFA™).
Rick consistently ranks in the top 1% of advisors based on revenue production at LPL Financial, the nation's largest independent brokerage firm.[1] Rick was named a Top Financial Advisor by Barron's Magazine for 2011, 2012, 2013, 2014, 2015, 2016, 2017, 2018, 2019, 2020, and 2023 [2] and recognized in Financial Times 400 Top Financial Advisers in 2016.[3] Rick was also highlighted in Forbes Magazine in July 2012. [4] He was recently added to the Forbes 2023 Best-In-State Wealth Advisors list.
A lifelong resident of North Carolina, Rick makes his home in Chapel Hill, NC with his wife Laura, daughter Candace, and son Conrad. They are active in the community, and are members of First Presbyterian Church in Burlington. In their spare time, Rick, Laura, Candace and Conrad enjoy travel, snow skiing, boating, and golf.
---
[1]As reported by Financial Planning magazine, June 1996-2015, ranking based on total revenue production.
[2]2012 and 2013 Barron's America's Top 1000 Financial Advisors and 2014, 2015, and 2016 Barron's Top 1200 Financial Advisors is based on assets under management, revenue produced for the firm, regulatory record, quality of practice and philanthropic work.
 [3]2016 Financial Times 400 Top Financial Advisors had to have 10 years of experience and at least $300 million in assets under management (AUM). Qualified advisers were then scored on six attributes: AUM, AUM growth rate, compliance record, experience, industry certifications and online accessibility.